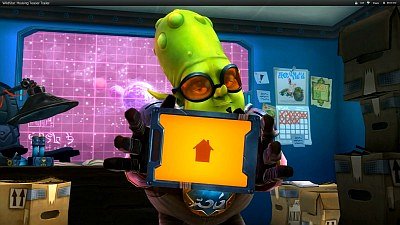 This Week's Wildstar Wednesday is really amazing! Carbine not only revealed that Wildstar will have housing, but they did it in their own unique way. If you want a peek at Carbine's art style, humor and none the less at some housing options then read on below!
Making Dreams come True … for money!
P.T. Rotostar, president and CEO of the galaxy-spanning Protostar Corporation, has just announced the immediate implementation of a bold new initiative in planetary settlement: Protostar's Nexus Housing Initiative!
This is by far the best Feature Teaser I have seen in many years of MMO's. Usually you get a some form of developer news, or an ingame video footage with comments if you are lucky, but rendered videos of this kind – showing off art style, humor and none the less ingame footage in a cool way – are extremely rare. Absolutely loving this video.
Of course many questions do now arise. Here are some that have come up on our IRC channel.
Are large plots, intended for guilds or can 'single' players ?
Can you own more than one house?
Can a single player manage/build a large plot by himself?
How expensive is housing? Is it aimed far into the elder game or will starting characters get access to some small "shack/barracks"?
Do you continuously upgrade your house from shack to castle or do you have to build each stage from scratch (ofc assuming there are different sizes)?
Will it require to have settlers to buy your house, or prepare a plot of land for housing?
Will houses decay if you are offline? unsubscribed?
"… insignificant chance to kill you!", elaborate that please Mr P.T. Rotostar!
Will there be some quick access to your house?
How do you plan to limit locations for plots/houses? Could you place your house close to an instance?
Will they cost differently at different locations?
Can I invite my friends to the house?
Can I break into a house?
Can I attack an enemy faction plot?
You like the video? Let us know or add your question below!
Source