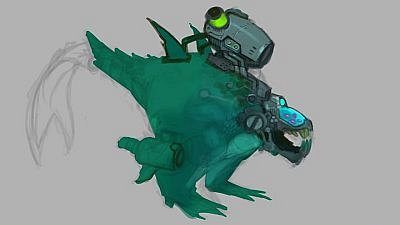 If you followed the Wildstar Gamescom 2011 coverage you will remember the coming to life of Metal Maw. Carbine hosted a life-drawing event with Senior Concept Artist Andy Cotnam in cooperation with the audience. Metal Maw's first steps to become a badass Boss had been taken. While the actual event was quite funny, the result looked somewhat unimaginative. This made me wonder how Carbine Studios was able to actually turn this into a fearsome monster.
Wildstar Wednesday Part 1, Concept Art
Robert Land described the first step in Metal Maws evolution. As heavy teched creature he fits very well to Nexus as one of the dangerous experiments left behind by the mysterious Eldan race that once inhabited the planet.
Completing the concept art is the first step to bring the creature ingame. Andy Cotnam describes each of his thoughts while working the changes. You can read through them here. I'll just post the pictures here.
As you can see the final sketch looks very nice. The fat chicken without wings became badass 😀