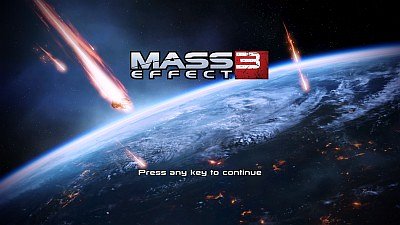 Haven't even started to play properly but ended up more interested tweaking Mass Effect 3 more than actually playing it. As usually I started using Cheat Engine to tweak Credits and Power Points, but that ended up being somewhat unreliable, a few issues came up. Mass Effect 3 brings a more convenient way to tweak stuff, the Coalesced.bin, formerly known as Coalescd.ini in Mass Effect 2.
Why not use a cheat?
At first I noticed that if you spend more Talent Points than you can have at your current level, you will end up having them reset each time you load/zone. Also adding "no operation" to money or skills sometimes caused issues with the client. I was stuck talking to Dr. Michel and could not exist the dialog or reload weapons. Hence I remembered the Coalescd.ini from the previous game and thought to tweak it enough to be able to rush through the game with more focus on exploring the zones and dialog options more than spending hours farming to be able to buy upgrades or kill hordes of silly NPC's.
How to open the file
The Coalesced.bin for Mass Effect 3 is no longer a text file and you need tools to open them. So far I found 2 ways to do that the original Mass Effect 3 Coalesced.bin Tool by Rick or the newer more convenient GUI based ME3 Coalesced Utility by Monochrome Wench.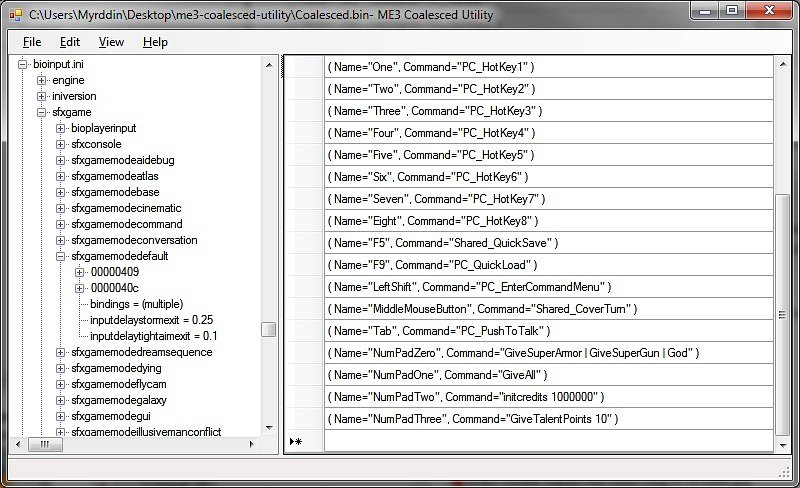 My Coalesced.bin
Note:
copy the Coalesced.bin to the folder "~Mass Effect 3BIOGameCookedPCConsole" (backup the original)
some commands require "action mode", like running a mission
you may need to use the "num lock"-key to activate the numpad properly
This is work in progress, I am looking into some commands from ME 2 and see if they work in ME 3. Leave a comment below if you want to contribute some.
200 Talent Points at Level 1! 100 for Henchmen
NumPadZero – God Mode
NumPadOne – Gives Super Weapon and Armor
NumPadTwo – No Power Cooldown
NumPadFour – Disable Collision
NumPadFive – Enable Collision
NumPadSix – +15 Talent Points
NumPadSeven – Boost to Level 60
NumPadNine – Set credits to 7 500 000
NumPad + – Set Paragon to 2000
NumPad – – Set Renegade to 2000
NumPad * – Get all Weapons
R "Reload Key" – Max Ammo and Grenades
Increase detection range for system scan
No Fuel Usage
All Armors available in Shops
All Weapons available in Shops
All Upgrades available in Shops
All Items available in Shops
Increase carrying capacity (encumbrance) by x4
Working Hacks
Here is the list of modifications that worked for me. If you use the UI editor then enter
Talent Points
biogame.ini: sfxgame,sfxgameconfiglevelrewards
(Level=1,ExperienceRequired=0,TalentReward=200,HenchmanTalentReward=100)
Keybinds
bioinput.ini: sfxgame,sfxgamemodedefaultbindings
( Name="NumPadZero", Command="God" )
( Name="NumPadOne", Command="GiveSuperGun | GiveSuperArmor" )
( Name="NumPadTwo", Command="enablepowercooldown 0″ )
( Name="NumPadFour", Command="Ghost" )
( Name="NumPadFive", Command="Walk" )
( Name="NumPadSix", Command="givetalentpoints 15″ )
( Name="NumPadSeven", Command="givexp 180000″ )
( Name="NumPadNine", Command="InitCredits 7500000″ )
( Name="Add", Command="setparagon 1000″ )
( Name="Subtract", Command="setrenegade 1000″ )
( Name="Multiply", Command="giveitem self argus | giveitem self avenger | giveitem self blackwidow | giveitem self carnifex | giveitem self claymore | giveitem self cobra | giveitem self collector | giveitem self crusader | giveitem self disciple | giveitem self eagle | giveitem self endgamecarnifex | giveitem self eviscerator | giveitem self falcon | giveitem self geth | giveitem self gethplasma | giveitem self graal | giveitem self hornet | giveitem self hurricane | giveitem self incisor | giveitem self indra | giveitem self ivory | giveitem self javelin | giveitem self katana | giveitem self locust | giveitem self mantis | giveitem self mattock | giveitem self phalanx | giveitem self predator | giveitem self raider | giveitem self raptor | giveitem self reckoning | giveitem self revenant | giveitem self saber | giveitem self scimitar | giveitem self scorpion | giveitem self sentryturret | giveitem self shuriken | giveitem self striker | giveitem self talon | giveitem self tempest | giveitem self thor | giveitem self valiant | giveitem self valkyrie | giveitem self vindicator | giveitem self viper | giveitem self widow" )
Other Commands
On Reload ('R') resupply Ammo and Grenades
bioinput.ini: sfxgame.sfxgamemodebasebindings
( Name="PC_Reload", Command="SwapWeaponIfEmpty | TryReload | initammo 999 | initgrenades 10″ )
System Scan improvement, detect points of interest over the complete system
bioinput.ini: sfxgame.bioplanetm_fscandetectionrange
m_fscandetectionrange = 800.0
Increase Encumbrance capacity
bioinput.ini: sfxgame.sfxcharacterclassencumbrancecapacity
Increase Detection Range for "interesting objects"
biogame.ini: sfxgame.bioplayerselectionmaxhighlightrange
Increase maximum Fuel to 15000
Bioweapon.ini: sfxgame.sfxinventorymanagermaxfuel=15000
No more fuel usage, infinite flying
Bioweapon.ini: sfxgame.sfxinventorymanagerfuelefficiency=0.0