An instance that I particularly like to farm for gold are Ruins of Ahn'Qiraj. At level 80 the level 60 raid mobs do not really pose any threat and make a quick run quite lucrative.
A typical run takes about 45 min and averages about 250 gold profit, even if you just vendor all the drops you find. Here is a little screenshot from this afternoons AQ 20 run.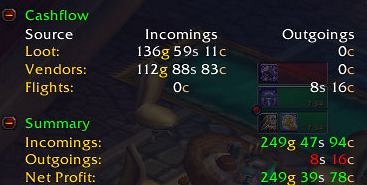 As you can see there is not so much gold from bosses, but the real goodies are the skillbooks for the Level 60 abilities that drop 1-2 per boss and can be vendored for 10g each. In addition, I just vendor the Blues/Epics since the value of shards is not worth disenchanting.
Further interesting drops are recipes/formulars that sell for huge prices on AH. For example the Blacksmith Patterns from Moam go for around 80g each.
Now about the mobs, here is a small list of tips that might make your gold farming a little easier!
Trash
Trash you should avoid are the Oozes, when they are low on hp they swallow you and regain hp while you lose yours … until you die … except if you have some dot that will outdamage its heal. It is best to avoid them and basically you only need to kill one if you are going for Buru.
You need to clear the anubisath trash before Ossirian. The anubisath guardians may cast meteor which hits for 10k+ damage. However there are some ways to reduce the damage taken. The damage is split by all targets it hits … if you have a pet out you only take half damage. You can resist a lot of the damage, since they are only level 62, but some kind of fire resistance is highly effective, too.
Kurinnaxx
Kurinaxx is the first boss inside. He has 2 abilities that can be quite annoying.
Mortal Wound, an cleave attack that reduces healing taken by 10% and stacks up to 100%.
Sandtrap, spawns under a player and if he doesn't move out reduces his chance to hit by 75% and silences for 20 seconds
The trick to do this solo is to use your cooldowns early, try to be at a high percentage of health when you are at about 70% healing reduction and try to outlive his hits. Once healing reduction hits 100% it resets to 0% and you can heal up.
At 30% he enrages and hits a bit harder.
Also if you continually move backwards then sandtrap will not hit you and is no threat.
General Rajaxx
Before starting the fight, make sure that the reinforcements from Cenarion Circle,  Lieutenant General Andorov and his 4 Kaldorei Elite, come to help you. If you defeated Kurinaxx close to General Rajaxx they might not appear and you may need to ride back to the stairs leading down to Kurinaxx.
Lieutenant General Andorov will provide 200 hp/3 sec and an 10% haste aura (amplify magic can increase the healing)
Some people like the fight, some hate it. Since I am a friend of zerging down hordes of mobs I really enjoy this part as 7 waves of thrash come and you are to defeat them.
The 8th Wave is General Rajaxx himself. It is all tank and spank, just that his thundeclap reduces your current by 50%. do not forget to loot the corpses of the officers as they sometimes have some blue items that vendor nicely.
Moam
Moam is pretty easy to solo. If youa re a mana user he will drain 500 mana each few seconds, so you might like to avoid high mana spells and focus on your mana regeneration.
If you kill him too slow he will spawn 3 Elementals that do arcane explosions, but the elementals are only level 62 and will miss a lot with their spells. You can continue dps after you killed them.
Buru the Gorger
I am skipping Buru the Gorger because the fight takes forever, he will always chase you and thus you will not have a lot of time to actually dps the eggs that will blow him up and make him vulnerable. Definitely doable, but it takes a lot of time. If you are going for it, make sure he does not hit you, the eggs have a nice blast radius, because his hit will place a stacking dot on you which can kill you fast.
Ayamiss the Hunter
I am skipping Ayamiss aswell. the first phase is an "air phase" and as melee that sucks. Actually haven't even tried her as enhancement shaman or paladin.
Ossirian the Unscarred
The Ossirian fight is quite fun. He is very strong and hits for about 3-4k, if he is not weakened. If you look around the area you will notice that there are prisms on the floor. You click them when Ossirian is close he will be weakened for around 30 seconds and also become vulnerable to certain schools of magic.
Basically you pull him on mount to the first prism and then you need to locate the next prism and move him there.
He casts a cyclone spell on you, but it will break on first hit. It is just an issue if you aren't soloing him, because he will cyclone the tank and go for second on threat, which means the tank will be cycloned for the whole duration.
Summary:
If you are getting used to the instance you can easily solo it in less than 1 hour, making it quite profitable, depending on drops. An easy 500g each week.
Video: