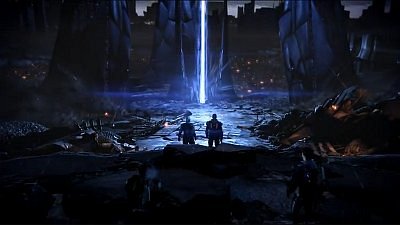 Mass Effect 3 will be launched soon, "the war to Take Earth Back" as Bioware calls it begins on March 6, 2012.
Just in time the Launch Trailer has been published.
Video
You're here for the video, I know so I'll be brief. Enjoy!

Info
Not everyone will survive. An ancient alien race, known only as "Reapers", has launched an all-out invasion leaving nothing but a trail of destruction in their wake. Earth has been taken, the galaxy is on the verge of total annihilation, and you are the only one who can stop them. The price of failure is extinction.
You are Commander Shepard, a character that you can forge in your own image. You determine how events will play out, which planets to explore, and whom to form alliances with as you rally a force to eliminate the Reaper threat once and for all.
How you wage this war is completely up to you: go into combat with guns blazing or use cover to plan a more tactical assault. Utilize your squad to full effect or take a lone wolf approach. Rain death from a distance or go toe–to-toe with enemies using devastating melee attacks. Mass Effect 3 will react to each decision you make as you play through a truly unique experience of your own creation.
The war for Earth has begun, decide how it ends.
Source
http://mass-effect.com/videos/video/ed4654f7e8b506c149e1aed1cc4cd99d
Update: Live Action Trailer
Just found this live action trailer on YouTube. Thought it would fit well with the one above, hope you are excited about the game!
http://www.youtube.com/watch?v=0DSCFQcR08E
Update: Cinematic Trailer
If you still can't get enough take a look at the Cinematic Trailer here!