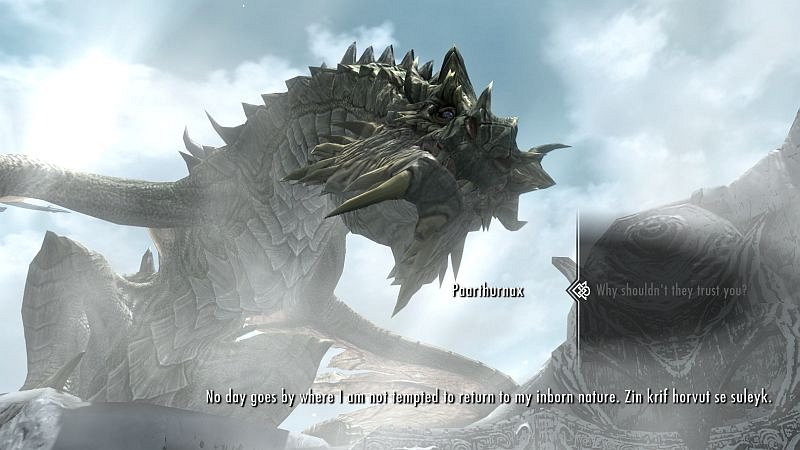 If you haven't finished Skyrim, yet don't read on. All others have, with the help of the greybeards, arranged a peace treaty between the Empire and the Stormcloaks. At the end of the summit you are approached by Esbern and Delphine who tell you that the Dragon Paarthurnax needs to die for his past crimes or they will no longer cooperate with you.
Why?!?!?
For me this is the hardest decision so far. Not because it has so much effect, which is doesn't, but for the fact that I am supposed to kill an Ally someone who supported and helped so much.
During the Quest "Season Unending", the arrangement of a temporary peace treaty, Delphine or Esbern approach you and tell you that they have learnt about Paarthurnax, the Dragon who is helping you and who happens to be the leader for the Greybeards.
The Blades
As we have learnt throughout the main quest The Blades have been formed as Dragonslayers, serving the Dragonborn. Later, I suppose due to lack of dragons, they evolved into an order of spies and commandos in service of the Emperor of Tamriel but lost their role as protectors. By the time of Skyrim events Esbern and Delphine are all that is left of the order. They returned to their original goal and approach the Dragonborn offering guidance and support.
"There are those that say the Blades still exist around us, in hiding from the Thalmor. Waiting as they have done time and time again, for a Dragonborn to return. For one to protect, for one to guide them." – exceprt from 'The Rise and Fall of the Blades'
Gaining Reputation with The Blades you will (would – don't even think about it!) eventually be able to have your followers join the order and take them to Dragonhunts.
Conflict
During the events of Skyrim they help you understand about the Dragons and return of Alduin. They accompany you to Sky Haven Temple, The Blade's old base, when they learn that the leader of the Greybeards is Paarthurnax, one of Alduin's Chief Leitenants and Alduin's Brother. They see him as responsible for many of their ancestor's deaths and demand you to kill him. They refuse to cooperate any further with you before have completed this Task.
Dialogues
Delphine:
Make your chocie Dragonborn. You're either with us or against us.
Here's the big picture. He helped Alduin enslave our ancestors. He may have betrayed Alduin in the end, but that makes him worse, not better.
We can't afford to give Paarturnax the opportunity to betray us in turn, and return to his old master.
But our oath as blades binds us. Paarthurnax must die. There's no excuse now that Alduin is dead.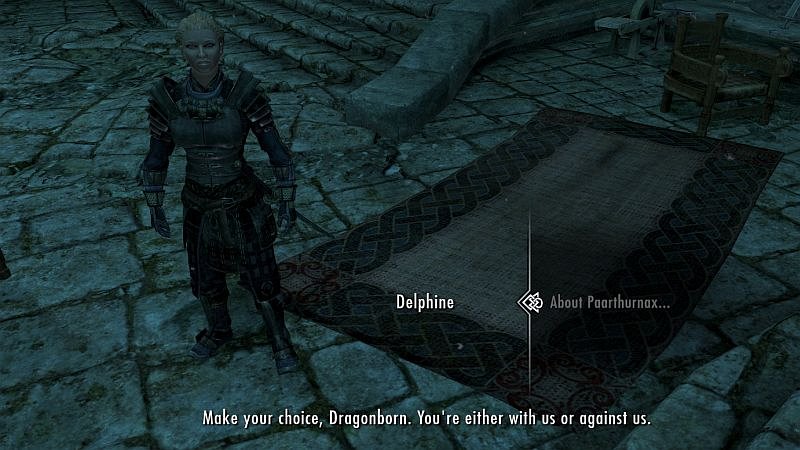 Esbern:
I am afraid she's right. I'm deeply sorry that this has to come between us.
But just as Paarthurnax's later deed do not expiate his crimes, your deeds do not allow us to ignore our duty.
I hope you will return to us soon with the news that justice has finally been done.
With both Alduin and Paarthurnax dead, a dark chapter in history will finally be closed.
Esbern (got this when returning from Paarthurnax):
Justice can be harsh. But it is still justice. Paarthurnax deserves to die.
Paarthurnax was the author of many atrocities during the Dragon War – crimes great enough to be remembered for thousands fo years.
True, he turned traitor to Alduin and helped overthrow the Dragon Cult, but that does nto excse or expiate his previous deeds.
Wheter or not he has truly repented, or merely acted to survive himself, jsutice demands that he pay with his life.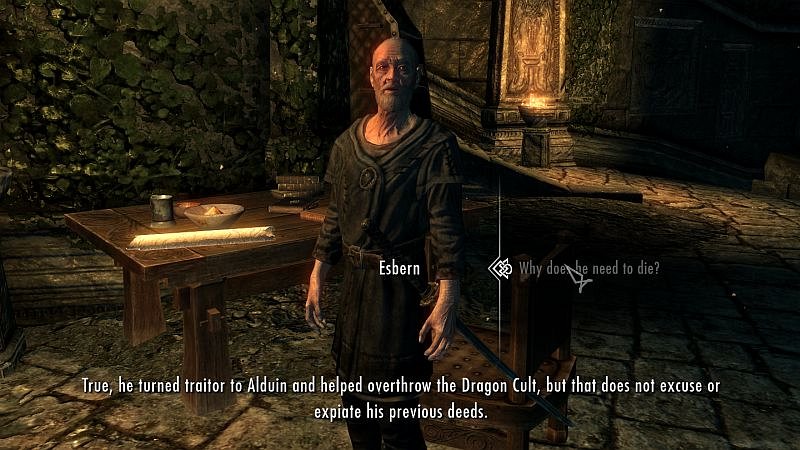 I really don't get The Blades, they claim to be serving you and yet try to force you into killing the Dragon. The Dragon who has stood up against Alduin, a dragon who has been waiting for thousands of years for Alduin's Return, the Dragon that convinced the Greybeards to teach you the shouts, he taught you shouts himself, guided your way to learn Dragonrend during the original fight versus Alduin – which would also force him on the ground. He helped you kill his brother … what better Ally could anyone think of? Don't forget you are a Dov yourself, without wings, but a Dov.
There you are the most powerful person in Skyrim, you saved the whole world, have legendary fighting abilities you were able to stop the war for a bit with your legendary speech skills but you cannot talk your servants out of this crazy idea … NO WAY!
Paarthurnax is more reasonable and makes some good points.
Paarthurnax:
The Blades are wise not to trust me. Onikaan ni ov. I would not trust another dovah.
Dov wahlaan fah rel. We were made to dominate. The will to power is in our blood. You feel it in yourself, do you not?
I can be trusted. I know this. But they do not. Onikaan no ov dovah. It is always wise to mistrust a dovah.
I have overcome my nature only through meditation and long study of the Way of the Voice.
No day goes by where I am not tempted to return to my inborn nature. Zin krif horvut se suleyk.
What is better – to be born good, or to overcome your evil nature through great effort?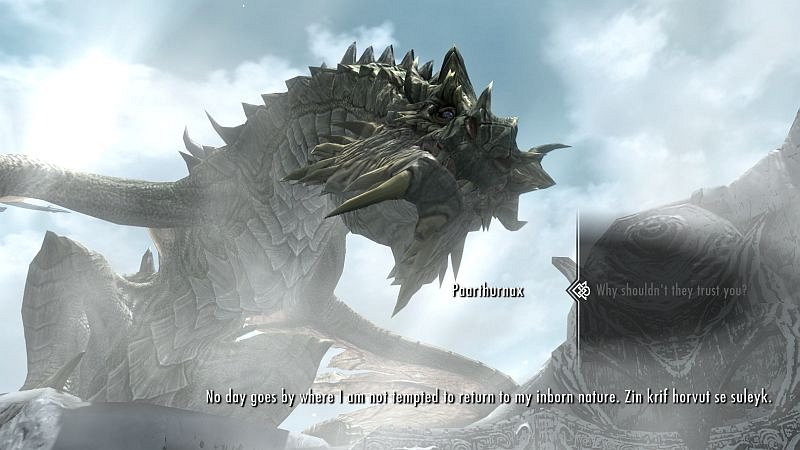 Solution
The only solution for me is to kill Delphine and Esbern to ensure that this Dragon stays alive, THAT should be an option. I read a comment where someone said "I want to steal their soul and enchant an item with it!", yeah that sounds like something. Kill Esbern, steal his soul and beat Delphine with it!
How do we do that? Well the console is our friend. Using help "Esbern" 0 and help "Delphine" 0 you can find the actor IDs then you use setessential to make them mortal. Then you can release these self-righteous, double standard asses from their oath by sending them to Sovngarde. I am quite certain that The Blades have their own load of black chapters in their history.
setessential 0013358 0 : this will set Esbern killable
setessential 0013478 0 : this will set Delphine killable
Enjoy!