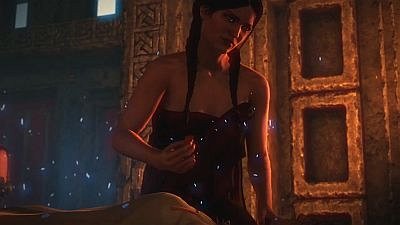 Witcher 2 is actually the first game where I like dwarfs, they are so charismatic and authentic (considering they are dwarves). One of my favourite moments, I still have to giggle when I think about it, takes place in Vergen. Zoltan is taking part in Philippa Eilhart's healing ritual. But watch the video below.
Philippa Eilhart is healing Saskia
The situation is so grave. Saskia has been poisoned and Geralt spent so much time gathering the correct ingredients for the ritual. It is not even certain that Saskia will live, Henselts Army is approaching Vergen everything depends on the outcome of the healing spell.